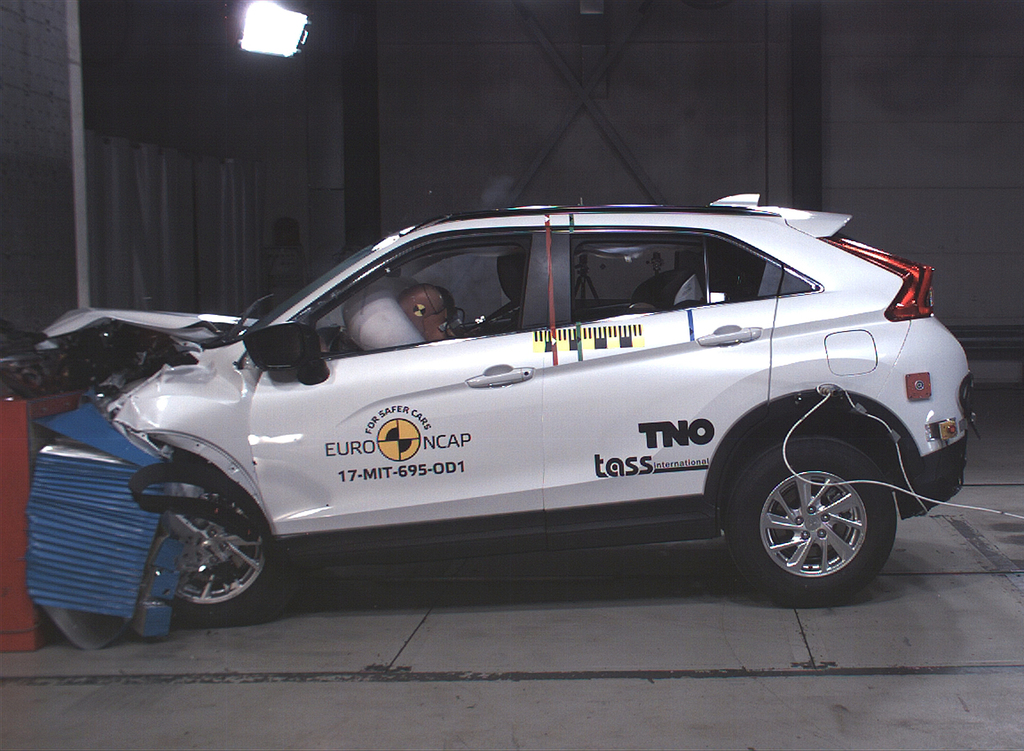 Mitsubishi introduced their new SUV, The Mitsubishi Eclipse Cross into their family in the year 2017. Combining sophisticated aesthetics and sporty performance with SUV practicality, the Eclipse Cross is a stylish and dynamic choice for drivers on the move.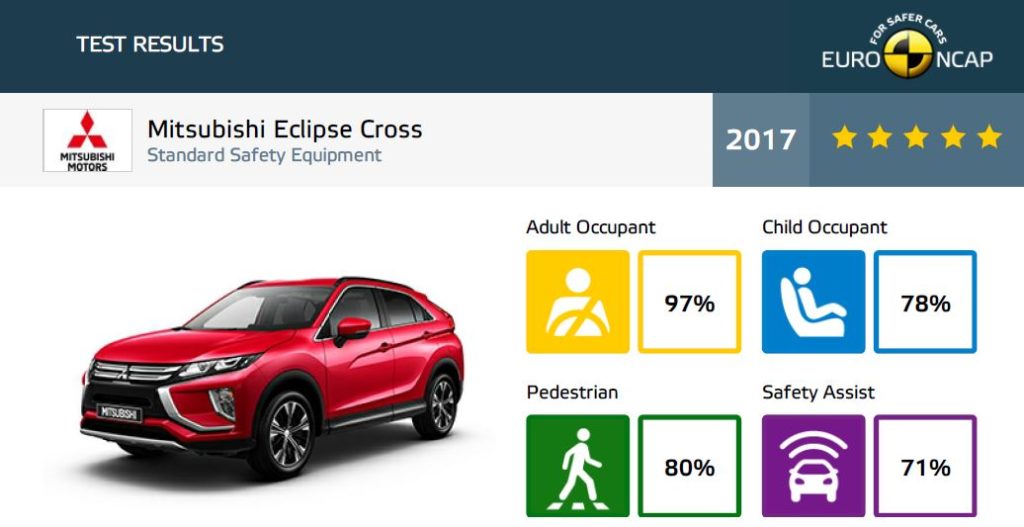 The Mitsubishi Eclipse Cross was tested in 2017 for the ENCAP Safety Rating and it came out tops with a 5 Star ENCAP Safety rating. The rating applies to the all the models of the Eclipse Cross range. That gives the owners peace of mind in the event of a collision, knowing that they are protected and their occupants too.
Results for the test are the following:
Adult Occupant Protection – 97% (36.94 out of 38)
Full Width frontal test, Frontal Offset test, Side impact test, Pole test, Whiplash Protection Test and Autonomous emergency braking (City)
Child Occupant Protection – 78% (38.24 out of 49)
Safety Assist – 58% (7.05 out of 12)
Speed Assistance System, Seat Belt Reminders, Lane Support System and Autonomous emergency braking (Interurban)
Pedestrian Protection – 80% (33.83 out of 42)
The Eclipse Cross comes standard with dual frontal, side chest, side head (curtain) and a driver knee airbag. The intelligent seat belt reminders are fitted as a standard feature for the Eclipse Cross, making sure you are protected at all costs in the event of a collision. Tests on the autonomous emergency braking system were done at highway speeds and they demonstrated good performance with collisions avoided or mitigated in all test scenarios and at all test speeds.
The Eclipse Cross achieved a very high score for Adult Occupant Protection at 97% – the equal second highest score in this area of assessment, and the highest in its class. The Eclipse Cross also comes with ISOfix. ISOfix is an alternative way to secure a child's car seat instead of a seat belt. ISOfix covers both Infant and toddler seats. The mechanism for attaching the seat is two U-Shaped clips that connect the car seat to two lower u-shaped metal anchors which are mounted to the chassis of a vehicle.
The Mitsubishi Eclipse Cross is a safe and stylish vehicle that gives you peace of mind when you look at your list of SUVs to consider. A comfy, versatile crossover that looks distinctive enough to be recognisable in this overly crowded market. In the hyper-competitive compact SUV marketplace, the Eclipse Cross stands out for its bold styling, safety rating and affordability.
Come test drive the Mitsubishi Eclipse Cross at CMH Mitsubishi South and come see and feel the safety features of the Mitsubishi Eclipse Cross.